Cyntherapy (formally Cynsy) teamed up with TDF for a very successful event at the Four Points by Sheraton in Richmond, VA!

With the help of Cyntherapy, a Virginia based scented candle company, TDF raised funds for the ReDream Scholarship Program, during their first annual ReDream Black Tie Scholarship Gala, held on March 22, 2014!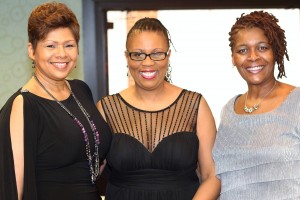 Brenda Chavis (Event Coordinator), Rev. Vanessa Carter (TDF Founder), Cynthia Edwards of Cyntherapy Scented Candles (Event Sponsor)
ReDream Black Tie Scholarship Gala Guests
ReDream Black Tie Scholarship Gala Cake


Hosted by Master and Mistress of Ceremony Reverend Aamon Miller and wife Gabriella Miller, the event was a wonderful success, bringing the community together in support of deserving youth in the Richmond metropolitan area pursuing secondary education.
Guests, dressed in their formal attire, enjoyed an evening of networking, shopping, food, great music, dancing and impromptu performances by some of the event participants. The evening wouldn't have been complete without guests learning more about the ReDream Scholarship Fund and how their contributions were helping youth further their education.

Rev. Vanessa Carter and husband Michael Carter
Angela Nelson and husband Earl Nelson
Medina Isiah and husband Minister Raymond Isiah



Presentations from the TDF board members highlighted TDF's journey and the birth of each of the programs TDF currently provides (Discover Me, Your Extended Support System (YESS), and Daughters of Esther (DOE)). Their passion for serving the community was clearly displayed. It's encouraging to know that this program exists to assist others who are striving to broaden their horizons in the pursuit of excellence. Guest Post by Ashley Spradley
by